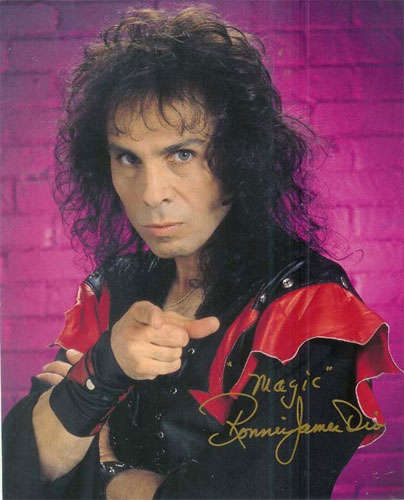 Dio was an awesome metal band from the 80's headed by frontman Ronnie James Dio. In case you whipper-snappers don't remember, Dio invented the devil horns (or at least their use in the heavy metal scene).
Poor Ronnie died yesterday, and will be greatly missed.
While Holy Diver was Dio's biggest hit, Rainbow in the Dark has always had a much bigger place in my heart. I think it's because the video is so awesome: it features a stuffy guy in a suit following this girl all over some city. When he finally catches up with her, she's totally rocking out with Dio and all the guys in his band. Sorry dude.
However perhaps the saddest part about Dio's death is that the official video for Rainbow in the Dark has been pulled from Youtube. I really don't think Dio would have wanted it that way.
Dio also had an amazing cameo on South Park, which has also been pulled from YouTube (ugh). At least you can still watch it in Spanish.